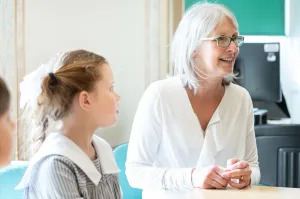 Headteacher's Welcome
Welcome to Oakleigh House where you can be assured that we will provide the best education for your child and ensure the best response from your child.  Each pupil has a strong sense of their own identity and is a valued member of the school community.  The staff work tirelessly for the children and enjoy an excellent home-school partnership with parents.
The stimulating, supportive atmosphere encourages confidence, enthusiasm for learning and consideration for others.  We place a strong emphasis on good manners and thoughtfulness, developing life skills of social confidence and making friends as well as the ability to learn, use information technology, solve problems and make sensible judgements. Pupils receive individual attention, while at the same time enjoy being part of a lively outward-looking school community.
Broadly Christian in ethos, we welcome all faiths and celebrate other faith festivals.  We consider our morning assemblies to be an integral part of school life as they present moral and topical themes in a simple and meaningful way.
We recognise that your child's progress is intrinsically affected by the attitudes, ethos and expectations of the learning environment.
Do come and visit us and see for yourself.  Please contact us to arrange an appointment.
I very much look forward to welcoming you.
Rhian Ferriman
Headteacher