Oakleigh House pupils support WWF's Earth Hour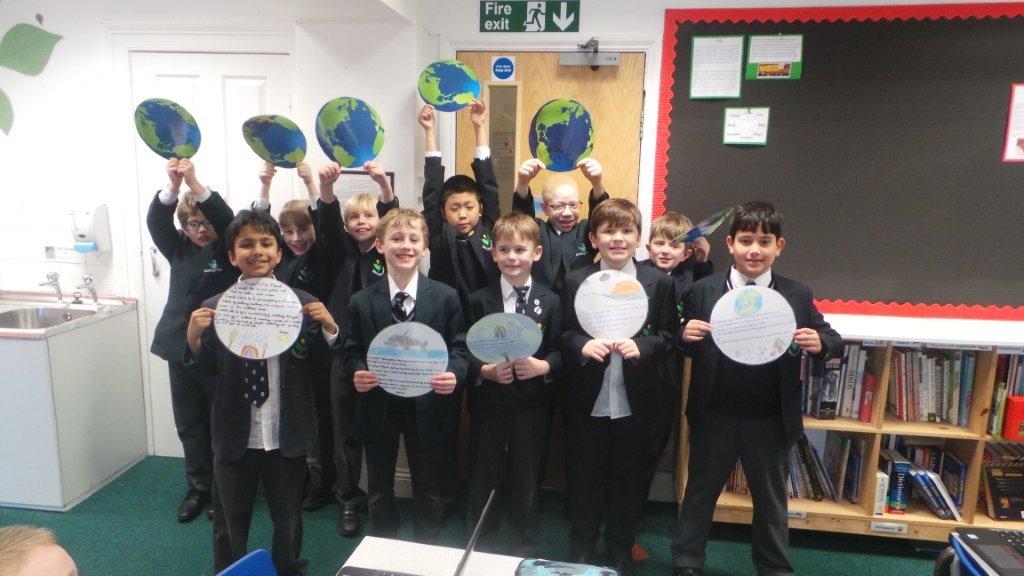 Year 4G at Oakleigh House School joined millions of people around the globe to call for urgent action on climate change.
WWF's Earth Hour, which took place at 8.30pm on Saturday 25 March 2017, the world's largest climate change demonstration – and a spectacular and symbolic event that focuses the world's attention on our planet, and the need to protect it.
By supporting Earth Hour, Oakleigh House School will help inspire the next generation to take part in the symbolic moment, which puts a spotlight on climate change and reminds us that, together, we have the power to make change happen.
In the lead up to WWF's Earth Hour, Year 4G, Oakleigh House School
Learnt about renewable energy sources
Worked hard to recycle rubbish and save electricity at home and in school.
Recorded their 'Wishes for the World' on globes.
Inspired their friends and family to switch off all non-essential lights at 8.30pm on 25 March for one hour
Year 4 teacher, Carol Garner at Oakleigh House School, said: "We're proud to take part in the 10th anniversary of WWF's Earth Hour. It's important that our young people understand the serious issue of climate change and the pressures it's putting on our planet.  There's so many fun and engaging ways in which youth groups can take part and show their support – and really make a difference!"
Cherry Duggan, Head of Schools and Youth at WWF-UK said: "We're delighted that Oakleigh House School took part and we hope that they'll inspire many other groups to get involved. Earth Hour is a brilliant opportunity for young people to learn more about climate change and how it's impacting our planet, but more importantly what they can do to help tackle it. This year we want to inspire and equip even more young people to show they care about the planet and want action on climate change."
Over the last decade, WWF's Earth Hour's unique display of darkness has become a global phenomenon with millions of individuals coming together each year. In 2016, a record-breaking 178 countries and some of world's most famous buildings including Big Ben, Hong Kong's skyline and the Sydney Harbour Bridge joined the global celebration. In the UK over 6 million people took part, nearly 200 landmarks, along with thousands of schools, businesses and organisations.
To visit WWF website click here
Published on: 31st March 2017