Oakleigh House School celebrated it's 100th Birthday in 2019 and organised a number of different events throughout it's centenary year.
Events commenced in January with activities including an art project, a decades dressing up day, a whole school centenary lunch party and an amazing Open Day and fair.  At the start of the following academic year all the pupils were given a special centenary coin to mark the occasion and this was followed by a concert in the Great Hall, Swansea University  and culminated in a Centenary Diner at the Waterfront Museum.
We were grateful to everyone who helped celebrate the proud history of our school at one (or all) of our events. It provided a fantastic opportunity to commemorate the school and see how much it has changed over the years, catching up with old friends and chatting with the current staff about life at school now.
In addition, parents and pupils raised funds for two local charities Maggies and Latch.  With the monies raised through a Year 5 Enterprise Challenge, a Year 6 cake sale, raffles and an auction totalling an amazing £3,700.
Art Project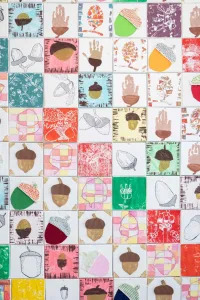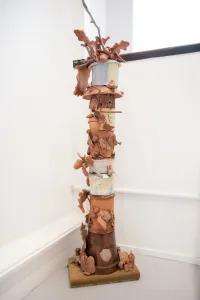 All the pupils from Nursery to Year 6 took part in an art project to commemorate the centenary.
Each pupil decorated a canvas with an acorn.  Nursery 1 used their handprints and this was followed by each year group using different techniques and mediums.
Later in the year a group of pupils worked with clay and made two Totem Poles which depict the history of the school and include reference Cwmdonkin Park and Dylan Thomas.
All artwork can be viewed in school.
---
In addition, we held an open day in June and combined this with our annual summer fair.
There were lots of stalls, including the Year 5 Enterprise Challenge – This involves the pupils working together in teams to come up with a business plan to make money for the school's nominated charities.
We were delighted to welcome over 450 people to this event.
---
On Friday, 13th September 2019 all the pupils from Year 1 to Year 6 travelled to the Great Hall, Swansea Bay Campus to perform in front of a sell out audience.
A snapshot of the concert can be viewed below.
---
On Saturday 19th October we held our Centenary Dinner at the National Waterfront Museum.
We were delighted to welcome both current and past parents and pupils to this event.
We were entertained by Magician Cameron Walsh and the Soul'd Out Band who were fantastic and got everyone on the dance floor.
Mr Frank Bothwell, owner of Thomas Franks, our catering company, kindly agreed to auction the fabulous donations and did an amazing job helping the school to raise money for our nominated charities.
---
The snapshot of the concert