In 1989, governments across the world adopted the United Nations Convention on the Rights of the Child (UNCRC). This convention recognises that all children have the right to be treated with dignity and fairness, to be protected, to develop to their full potential and to participate.
Oakleigh House School is proud to be a UNICEF's 'Right's Respecting School' achieving the GOLD Accreditation this year. The Rights Respecting Schools Award is underpinned by the principles of the Convention on the Rights of the Child and aims to help children grow into confident, caring and responsible citizens both within school and the wider community.
Since receiving the award, the school has continued to develop its Rights Respecting approach through three strands;
Strand A: Teaching and Learning about rights
Strand B: Ethos and relationships
Strand C: Participation, empowerment and action
Examples of how our pupils understand and use their rights;
A 'Right of the Month' focus.
Class charters.
Our Rights Respecting Council
Harvest Donations for local foodbanks
Learning our Rights song, 'To be free' which examines the four basic rights of the child.
Fund raising for charities such as Children in Need.
Donation to the Mr X appeal
Assemblies to support special calendar events such as Anti-Bullying week, World Mental Health Day, Dyslexia Awareness week, Firework safety, Armistice and International Children's Day.
Participating in UNICEF's OutRight programme – empowering young voices about Climate change.
Writing letters to residential care home residents during the Spring term lockdown period
Adopting a Turtle through the WWF.
https://www.unicef.org.uk/rights-respecting-schools/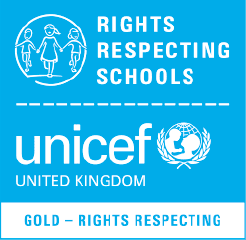 | | | |
| --- | --- | --- |
| January | Article 29 | Your right to become the best that you can be |
| February | Article 15 | The right to meet with your friends and join groups and clubs |
| March | Article 7 | Your right to a name and nationality. |
| April | Article 24 | Your right to good food and water and to see a doctor if you are ill. |
| May | Article 27 | Your right to a good standard of living |
| June | Article 6 | You have the right to life and to grow up to be healthy |
| July | Article 31 | Your right to relax and play. |
| September | Article 28 | Your right to learn and go to school. |
| October | Article 12 | Your right to say what you think should happen and be listened to. |
| November | Article 19 | You should not be harmed and should be looked after and kept safe. |
| December | Article 14 | Your right to follow your own religion |